You guys, how is it mid-January 2017? Where did the past year go? What is happening?
Before we get too far into this new year, I wanted to take a moment to talk about the last twelve months, all the projects we were involved with, and a few personal things that happened along the way that caused this blog to remain pretty darn quiet over the last several months.
Let's start with some highlighted projects from 2016.
Bounty Of The Bay Seafood Festival
Last May, we helped the folks over at Kurtz's Beach orchestrate the inaugural Bounty Of The Bay seafood festival. The event, which benefitted the Lake Shore-Severna Park Rotary Club, featured a crab soup cook-off (in which attendees could sample all crab soups and cast a vote for their favorite), a variety of seafood offerings from local restaurants, live music, flyboarding demos from Chesapeake Flyboarding (based out of Fenwick Island, Delaware), and several arts & craft vendors. We were fully involved with the marketing and promotion of this event from beginning to end, providing everything from event logo design, website design and development, vendor coordination, community outreach, communications and PR, recruitment of sponsors/event partners, and day-of coordination.
Koolhof Earth
Columbia, Maryland-based nonprofit Koolhof Earth (http://koolhofearth.org/) announced in January 2016 that their annual Give-back Gala would benefit Lutherville, Maryland's Emmanuel Monastery, a facility that was in dire need of energy-efficient upgrades. We were thrilled to work with Executive Director Allan Straughan, who needed assistance with event logo design, save the date and invitation design, and a press kit that would (and did!) create plenty of buzz about the affair.
LOTSA Pizza
LOTSA Pizza, a build-your-own pizza restaurant with just one pre-existing location in Morgantown, West Virginia, opened its second location (and first in Maryland) in Towson in early May 2016. We crafted an exciting press kit for the restaurant, which resulted in plenty of media attention from The Baltimore Sun, The Towson Flyer, The Daily Record, Baltimore Magazine, and others.
RECN Presents Gary Vaynerchek
In the early spring 2016, we were approached by RECN – a network of college students based at University of Maryland College Park interested in business and real estate, who wanted to put on a keynote speaker event with bestselling author Gary Vaynerchuk.
Bands By The Bay
Bands By The Bay was another inaugural event at Kurtz's Beach that supported the Friends of Downs Park organization in their quest to build a new amphitheater. It was held in mid-August on a muggy, 95-degree Sunday afternoon, and I was a whopping nine months pregnant. What a day! While the event was not as well attended as we had hoped (the heat definitely played a role in this), we learned a lot of valuable lessons that we hope to use when planning 2017's fundraiser.
Wine On The Water
This was our second year being involved with Wine On The Water at Kurtz's Beach, and it was just as fun to put together as the first year (check out the highlight video below). For Wine On The Water 2016, we provided everything from overall event support/coordination, communications and marketing coordination, website design, social media management, logo/graphic design, ticket design, email/customer support admin, vendor coordination and sponsor recruitment.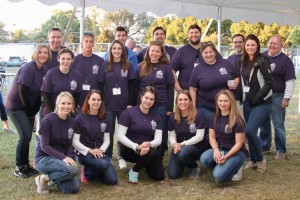 On the personal side…
Now, on the personal side of 2016, it was such. a. crazy. year. In January, James and I found out baby #2 was on the way. In April, we decided to sell our home. In May, we moved in with my parents (for what we thought would be an extremely temporary living situation) while searching for a home in Pasadena. In August, we swore we thought we found THE perfect fixer-upper house, and immediately got it under contract. Then, Labor Day weekend came around, and it was quite literally filled with lots of labor. On September 6, our family welcomed Jackson Beau into the world, and so began life with two kids!
Jackson Beau Bowerman, 9/6/16
So, about that house we had under contract. After having it inspected, we discovered there were simply too many problems with it and it was going to cost way, way, way more money to fix up than we initially anticipated. While the property and location were perfect (great, spacious neighborhood, backed up to the woods, huge backyard…we could have chickens!), there was mold. The deck was rotting and falling apart. There was no kitchen whatsoever. We talked about ways we could maybe make the numbers work, but in the end decided it simply wasn't worth it.
Back to the drawing board we went.
In October, we learned about a fixer-upper property located just steps away from the Magothy River in an older Pasadena neighborhood. All it took was one visit for us to decide that this was where we wanted to be. It's a fixer-upper for sure (we're currently living with one bathroom and no dishwasher – SOS), but the location absolutely can't be beat. In early December, we closed on the house and in moved our crazy little family of four. Two weeks before Christmas, at that. WHEW.
Also, can I just add that having two kids is so incredibly different than just having one? While it's true that it does get easier each week/month, it has most definitely been a huge adjustment for me personally. I so badly wanted to be that mom that could just bounce right back into the normal swing of things after having a baby, and I even kind of set that expectation for myself. Unfortunately, that did not happen. Not even close. Baby Jack is now just over 4 months old, and I've spent pretty much every one of those days trying to figure out our new rhythm as a family.
I've had to cut back on a lot of work (hence the reason for this quiet blog over the last several months), so that there's time for the million other things that demand my attention (two boys, a new house, feeding our family, running endless errands… the list goes on).
The fact of the matter is that I love my work, and I genuinely do not want to give it up. I've worked hard to get where I am, and I'm not one to just throw in the towel when times get tough.
But right now, things are tough. Each day presents a new set of challenges that are so different from any challenges I've ever faced before. So, instead of going with my natural inclination of saying yes to every single request or opportunity that comes my way, I'm forcing myself to be selective. At least for now, anyway. Time is valuable, and I want to make sure I'm giving my best to everyone – whether you're my kid, my client, my friend, etc.
So with all that said, I am undoubtedly looking forward to a far less chaotic year. Let's make 2017 all about quality over quantity, shall we?