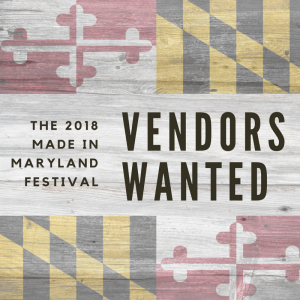 We love our state.
Not only is Maryland beautiful, it's filled with character, charm, and plenty of endearing quirks. On Sunday, May 6, the annual Made In Maryland Festival at Kurtz's Beach will celebrate all the unique offerings of our marvelous state while also supporting local entrepreneurship. 
From artisans, crafters, live jousting, food vendors, local wines and craft brews, live entertainment and beyond, here's what ticket holders can expect during this exciting Maryland-themed afternoon along the Chesapeake Bay:
Variety of master artisans & crafters featuring Maryland-themed products and beyond

Food trucks offering Maryland culinary staples 

Flower & plant market
Live jousting demonstrations

Handcrafted signature cocktails

Regional wines and craft brews

Live entertainment

Children's activities
We are currently accepting applications for festival vendors. Deadline for applications is March 9, 2018. Please note that this is a juried event, and that you will be notified by March 26 as to whether you have been approved.
Direct sales vendors and independent consultants will not be considered for this event.
Please click the link below for the application.