✓ WHY YOUR BUSINESS NEEDS EMAIL MARKETING
Email marketing is an integral part of your communication with clients. Whether you have news about a new product or service, or want to announce the hire of a new employee, it's important that you keep your customers informed about your business.
How else can your business benefit from email marketing? Check it out:
Build a connection and credibility with your customers.
Reach more of your target audience. With email marketing, 90% of email gets delivered to the intended recipient's inbox, whereas only 2% of your Facebook fans see your posts in their news feed. This is because Facebook limits the number of times your posts appear in the news feed in an attempt to drive brands towards their paid advertising options. On Facebook, if you post an update to your 10,000 fans, only about 200 of them will even have a chance of seeing it in their news feed. Alternatively, if you send an email campaign to 10,000 subscribers, at least 9,000 of them would receive it in their inbox. This means your message is 45 times more likely to be seen using email than Facebook.

It can reach people on any device.

Whether using mobile phone, tablet, or desktop computer – a professionally designed and written email looks great and is easy to open and navigate on any device.
Contact your customers more often. Take advantage of sending out weekly, bi-weekly or monthly emails to bring attention to special offers and build brand awareness.
Create an immediate call to action. What is it that you want your customers to do? Whether it's simply having your customers visit your website or take advantage of a special promotion, email marketing gives you your own advertising platform.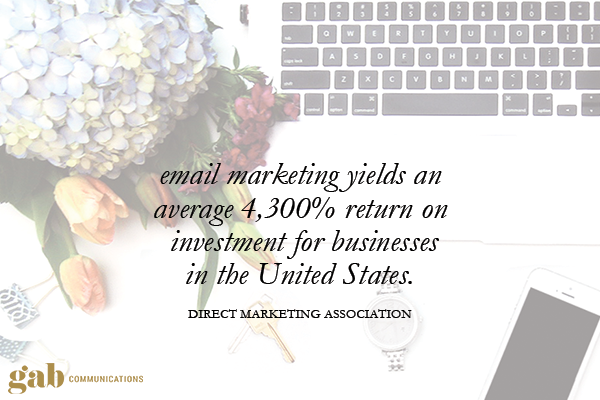 ✓ WHY HAVE US HANDLE YOUR EMAIL MARKETING
At Gab Communications, we are experts at promoting businesses and events through carefully crafted content, design that packs a punch, and magnetizing PR material. We are professionally trained writers specializing in both the business and creative ends of editorial.
When it comes to email marketing, we know what works and what doesn't. We also strive to get to know your business on a personal level so that we can create emails that reflect your brand's unique personality. Cookie cutter emails with no real character or pizzazz are definitely not our style.
✓ WHAT WE CAN DO FOR YOUR EMAIL MARKETING CAMPAIGN
Determine an effective strategy. Based on what your business's needs and objectives are, we'll recommend a schedule and the type of content and promotions that will be most impactful.
Manage your email list. Whether you store client emails through an internal database or collect them via your website, we are capable of assembling and continuously updating your email subscription list.
Design a custom template. We'll brand it with your business logo, colors and contact information.
Create content that packs a punch. Just tell us the topic(s) you want your email to focus on and leave the rest to us.
Develop a CTA (Call-To-Action) button. "Visit our website", "Click here to take advantage of this special offer", "Enter our contest today", etc. These are just some examples of CTAs, and yes – we make sure each of your email includes at least a few of them.
Send your email. We will always send the email to you first for approval before it is actually sent to your subscription list. Once approved, we'll schedule a specific time through the email service provider for the email to be sent out.
Report back to you with all the stats. This is one of the best perks of email marketing! We'll send you an updated report on how many of your subscribers opened, forwarded, shared, and clicked on your email.
We handle everything with your email marketing campaign – leaving you free to run your business!
✓ LET'S DO IT.
Give us a call (410-446-5696) or shoot us an email (Hayley@gababoutit.com) and let's get to work on your email campaign!