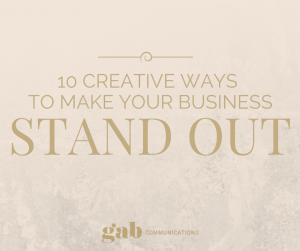 As a small business owner, you're constantly looking for ways to set your company apart. Maybe you've spent entire days perusing the internet or writing down possible ideas about the unique values you could begin to provide.
By classifying yourself as a small business, there's already a unique value in place that is pretty much universally understood. That value is that you are likely to be more personal, more attentive and more flexible than that other big company or box store down the street.
But even with that in mind, there's still more you need to offer your customers than just personal, attentive and flexible service, since nearly all small businesses claim to provide all of this already.
I'm working with a client right now who is just starting her small business, and because there's already such a saturated market in her industry, we're working to come up with ways to make her brand stand out. Let me just say, it has been so fun coming up with creative ways to enhance the customer experience for her business! Little add-ons such as the ones below play a big part in differentiating a brand.
1) OFFER LIGHTNING-FAST RESPONSES
One of my favorite things in the world is when someone replies to my email within moments. I know this definitely is not possible all the time obviously, but consistently providing quick follow up to all emails (i.e. within an hour or two) will make you look totally and completely on top of your game.
2) HANDWRITE A THANK YOU CARD
This seems like a lost art, but it definitely shouldn't be. Let your clients know how much you appreciate their business by writing a short and sweet note expressing your gratitude. It might seem outdated, but it will go a long way.
3) TELL A STORY
Whether you think so or not, people are interested in hearing your small business stories.  And guess what, these stories help define and provide value to your company. Who was the last really cool customer you worked with? What's the name of the last person you hired and what's their story? What's the latest tool or piece of equipment you've purchased for your business, and how will it benefit your customers?
4) OFFER A SOCIAL MEDIA PROMOTION
Provide a one-time discount or special gift-with-purchase to anyone who follows your business on social media.
5) REWARD LOYALTY AND REFERRALS
Offer discounts, a free service/product, or coupon to any repeat customer or customer who has referred you on.
6) PROVIDE A WELCOME PACKAGE
So the client decided to hire you. Now what? One cheerful way to kick things off is to provide a welcome package (digital or a print out) that includes a PDF that features free advice, links and resources, additional contact info for you, etc.
7) NIP THOSE FAQs IN THE BUD
Make a list of the top five customer inquires you receive. Create a "FAQ" page on your website or social media page that answers all of these questions up front.
8) LET CUSTOMERS KNOW YOU WILL GO THE EXTRA MILE
Be upfront with your potential clients in letting them know that you'll do whatever it takes to make their vision come to life.
9) LEAVE THEM WITH A SOUVENIR.
Pens, coffee mugs, tote bags, koozies, mints, chapstick – whatever item you'd like to have branded, gift a few of them to each of your clients as a special way to say thanks.
10) OFFER GOOD DESIGN.
There's nothing better than a visually appealing product. Don't cut corners with the design of your product or marketing material.
Also, one last bonus tip:
11) DON'T FIND CUSTOMERS FOR YOUR PRODUCT, FIND PRODUCTS FOR YOUR CUSTOMERS.
After your customer has received their final product or completed service, ask them what they would do to make it better or how the product/service could better suit their needs.
---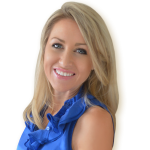 For the last decade, Hayley has been leaving her mark creatively on small, independently-owned businesses through editorial- and design-based marketing strategies. As a believer in the art of storytelling and the influence of a strong brand, her goal is to unlock the value that all small businesses possess and use it to their advantage using creative, strategic marketing methods.